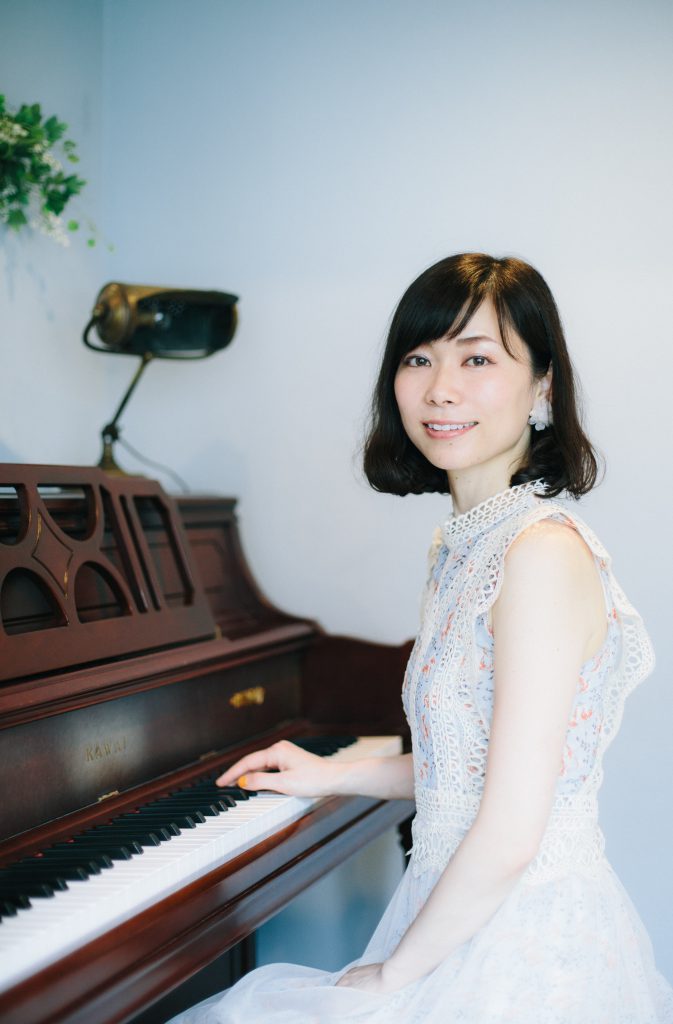 ---
(The English version is below)
3歳よりピアノを始める。クラシック音楽の他に、映画音楽、ゲーム音楽など様々なジャンルの音楽をコピーして演奏する楽しさを覚え、学生時代より演奏活動を始める。
大学時代に初等教育第一種免許を取得。音楽ゼミではリコーダーカルテットを主催。卒業後CMプロダクションに就職し、映像と音楽についての知識を深める。
退職後、演奏活動を続ける中でJazzバンドに誘われたことをきっかけに、Jazzの演奏活動を本格的に始める。八木美恵子氏、ヒロ・モロズミ氏に師事。代官山音楽院旧指導者養成コースにて ピアノ指導法を山下美香氏に師事。
卒業後、ローランド音楽教室の講師認定資格を取得。現在はNOAHミュージックスクール、ヤマハ音楽教室などで講師活動を行う。
作曲活動にも力を入れており、2015年11月に串ロックレーベルから1stミニアルバム「PRISM」を発表。透明感のある音色と音楽の領域を超えた表現力、カラフルな楽曲の世界が魅力。
現在は第37回日本レコード大賞「アルバム賞」を受賞したブルースシンガー新井英一のサポートメンバー、フルート奏者酒井麻生代とのデュオユニット「LaDew」での活動や、瀬戸内海島フェスへの参加の他、演劇伴奏など幅広いフィールドで演奏活動を行なっている。
また、室内楽編成のquartettoにジャズやタンゴ、ヨーロッパ伝統音楽の要素を取り入れたグループのリーダーとしての活動を精力的に取り組んでいる。
2018年秋にはスウェーデン人ボーカルLo Ersare、ポーランド人ドラマーAlbert karch、日本人ベーシスト小美濃悠太とのプロジェクト、Leisure Childrenの日本ツアーを大盛況で終え、2019年7月にはCopenhagen Jazz Festivalをはじめとするヨーロッパツアーに参加。2019年12月にはフルアルバム「Tiny Big」をGoodness Plus Recordsよりリリース。
今後国境を越えて活躍が期待される日本人ピアニストの一人。
Seiko Omori is a Japanese multi-talented pianist, composer, arranger, creator and illustrator based in Tokyo. She was born on a beautiful island in Hiroshima, located in the middle of "Seto-Naikai", the Seto Inland Sea.
Seiko started learning the piano at the age of 3 and then started composing songs at the age of 5. She grew in rich nature which cultivated her unique sensibility. She also took on "Kendo" (Japanese Fencing) at the age of 9 to learn the spirit of discipline, which still has a strong influence on her artistry and lifestyle today.
In her childhood, Seiko was very creative to make calendars, animations, picture books and so on.
When she was 12 years old, she was involved in school drama production with her schoolmates and a teacher at the elementary school, writing screenplays and creating the screen music.
Seiko liked Carpenters' songs and Japanese game music, especially animation music composed by a Japanese composer, Yuzuru Hisaishi, which she used to play his music with the piano by ear. She was also interested in social welfare, so she majored in child education at college.
After graduating from the college, Seiko pursued her interest in creation to join a commercial film production company, where she created TV commercials as an assistant director and appeared in several commercials as a model.
Seiko acquired the certification of "Roland-Certified Instructor" to be embarked on music education by working at YAMAHA, NOAH and other music schools. Also as a music creator, Seiko released her first original mini-album titled "PRISM" from Kushi Rock label in November 2015. She also worked on activities as the leader of a chamber quartet band that plays Jazz, classical, traditional, tango and original music.
She also plays with different kinds of performers such as magicians and theater actors. Her piano play is highly trusted by a variety of singers and instrumental musicians regardless of gender and age.
In the summer of 2018, Seiko met great friends in Copenhagen, whom she could share good music with. She formed a band named "Leisure Children" with them. "Leisure Children" is a fusion music band which combines European and Japanese cultures. The band held a Japan tour in the autumn of 2018, making great success to receive supportive applause from the large audience.
Seiko is scheduled to go on Europe and Japan tours the band members of "Leisure Children" in the summer and autumn of 2019. She is one of the Japanese pianists who are expected to play an active role all around the world.